Smart Classroom 4.0 Solution- An Overview
Technology-enabled education is peeping deep into the classrooms, paving a way to smart-education. The concept of smart classrooms has arrived at the forefront with the integration of advanced hardware and innovative software technology to enhance the way of teaching and to keep a check on students learning.
Moreover, smart or digital classrooms foster creativity and an interactive environment would help in bringing in more innovative ideas, more queries, and more solutions. 
What is Smart Classroom?
A smart classroom is a technology-enhanced learning classroom that enhances the way of teaching and learning digitally. The classroom is integrated with the digital displays, tabs, interactive whiteboards, assistive listening devices, and other audio/visual components that make lectures easier, engaging, and more interactive.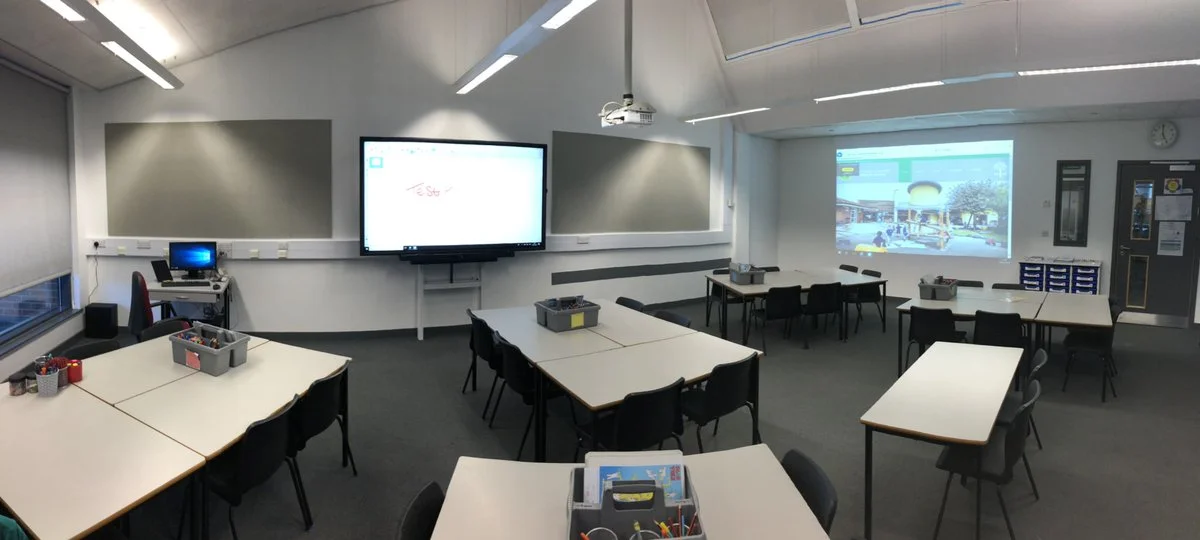 Benefits of Smart Classrooms
i) Interactive Learning Experience
ii) Encourage Collaboration
iii) "Go Green" Concept
iv) Upgraded Integration
v) Time-Saving Classroom Technology Solutions
vi) Smart Interactive Modules- Videos, Presentations, etc.
vii) A Touch of Fun Element to Learning
viii) 24*7 Accessible to Online Resources
ix) A Fillip to Academics
x) Pace of Growth
Components of Smart Classroom
The general components of smart classroom consist of:
i) Hardware Equipment (Desktops, laptops, tablets, iPads)
ii) LCD projectors
iii) DVD/VCR Combo
iv) Interactive Whiteboards
v) Microphones
Dwelling deeply, the must-have set of smart classroom equipment is as follows:
i) Learning Management System
ii) Interactive Control Center
iii) Class Pad
iv) Interactive Whiteboards
v) Classroom Control System
vi) Response Pad
vii) On-Demand Collaboration
viii) On-Demand Visual Learning
ix) Classroom Capture
x) Interactive Displays
The journey of developing a smart classroom has been long but escalating. From a classroom that solely depends upon chalks and boards for interaction, the step has been taken towards "interactive whiteboards".
Replacing the traditional notion of teaching, it incorporates the finest "digital ink technology" that helps the children to stay focused on classroom teaching and in an entertaining way.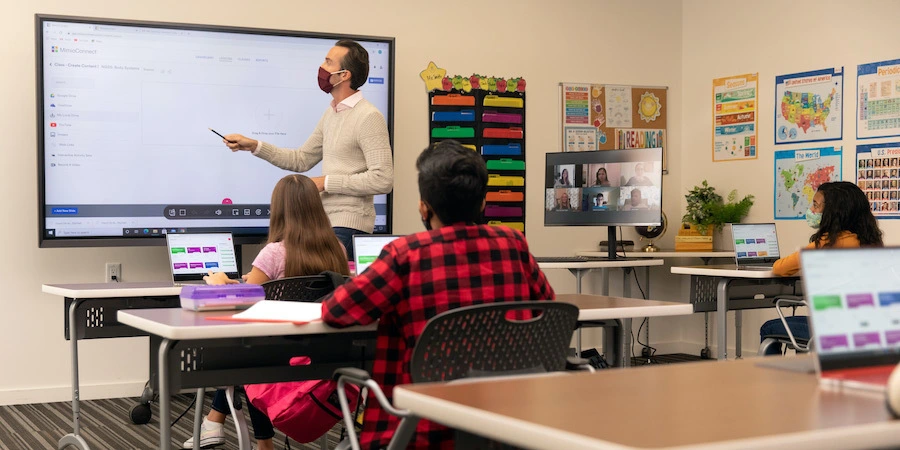 Different Types of Displays
Video projector-based solutions 
Video projectors that are presently installed in the classrooms or meeting rooms, they need some tedious tasks of wiring or mounting equipment on the ceiling and other maintenance tasks.

These video projectors do not have interactive features.

When compared to LCD/LED  panels of new generation and require turning off of room lights for optimal visual performance.
Interactive Whiteboards
The interactive whiteboards consist of a computer, projector, advanced software technologies and a display panel. They are operated by a touchpad that is connected to a computer which is connected to a projector. The teacher takes the entire control of the information which can be copied or transferred to another slide. They come with a set of features for enhancing the quality of education that are:
i) They handle all sorts of media content, video, presentations
ii) spotlight for highlighting any specific area;
iii) screen shade for hiding and revealing information on choice, used especially in questions and answers.
iv) magnifier to zoom images
v) pointers to mark something on highlighting specific areas.
Flat-panel interaction technology
Interactive whiteboards may cost lower but the high cost of projector replacement lamps along with installation costs make their TCO higher as compared to flat-panel displays. Moreover, the latter comes with ease of use, less heat emissions, no anxieties about students blocking the projected beam of a video projector. The flat panel display features:
Multi-function touch response supporting multiple touch points.

annotation and collaboration features

touch pen points

ability to capture/ display the screen contents

video-conference visibility

digital signage functionality – converting displays into interactive way finding for any special event
From Interactive Whiteboards to Digital Displays in Smart Classrooms
From interactive whiteboards, the focus has now been shifted to more interactive smart classroom solutions, like- interactive displays in schools, universities, corporate departments, and training facilities.
As opposed to interactive whiteboards where there is a lot of clutter in managing and assembling the equipment, large-format LCD and LED based interactive digital displays resolve these problems. The leading edge trend of interactive display technology is gaining momentum in education and work environment and it comes with:
i) better AV equipment performance;
ii) equipment takes less of space in crowded rooms;
iii) more user friendly and IT-friendly;
iv) move to open architecture solutions
The above-mentioned covers all aspects of the digital classroom solutions that vary from the advantages of smart class to the requirements of a smart class to the inclusion of the innovative digital displays.